---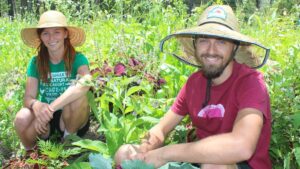 T
win Bears started in 2010 as a vision of a sustainable future shared by Emily Baratta and Andrew Roy as they sat in a small urban apartment in Pleasant Hill CA. At the time they had a shared passion around using small urban and suburban yards and plots and converting them into food-producing systems. They got married, had a kid, and kept working towards the vision they had crafted together. A chance job transfer led them to pack up all their belongings and move across the country to Maryland. While exploring their new state they happened upon the city of Frederick and fell in love. They knew this was the place to create their vision. They purchased a house and began converting their suburban lot to the food-producing system they had dreamed of.
Once the food system was established, they continued their exploration into local food movements, the politics of food, community building, herbal medicine, and fermentation. In 2017 Emily teamed up with a few other locals and worked to pass local legislation to allow backyard chickens in Frederick. It was their love of naturally fermented and local foods that sparked the creation of Twin Bears Bakery. We connected with our local Miller and Farmer Ian @ Migrash Farms and tried local fresh flour for the first time. That experience changed our perspective on grains and Andrew became an advocate for supporting your local grain economy. The bakery draws inspiration from so many existing passions and areas of focus that its operation has quickly become the hub of activity around Twin Bears. We are humbled and thankful for the attention and support we have received from the community and look forward to being your baker.
Andrew, Emily & Zia
Twin Bears Bakery
Uniting Farmers, Millers & Communities through bread.